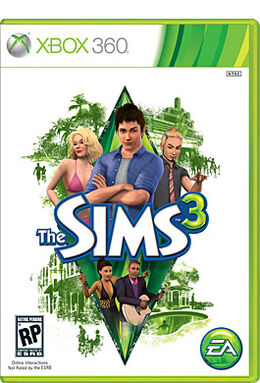 The Sims 3 is an upcoming set of games announced by Electronic Arts for the Xbox 360, PlayStation 3, Nintendo Wii, and Nintendo DS consoles.[1]
For the first time ever, players can share the fun with a friend in the co-op buddy mode or take on up to three friends in the Life Moments Game on the Nintendo Wii, upload and download content on XBLA and PSN, including furnishings, houses, and player creations or experience a full life simulation on a handheld with Nintendo DS.
Features
Not much is known about the game at this time, however it will feature a new Karma system (possibly similar to the influence system The Sims 2).[1]
"Create any Sim you can imagine – give them unique personalities! Fine-tune your Sims' appearances and personalities. Make them evil, romantic, paranoid, kleptomaniacs, or a mix of something completely different."[2]
"Unlock all-new Karma Powers. Wield the ultimate control over your Sims giving them wealth, beauty, and love—or take it all away with the click of a button."[2]
"Control your Sims' destinies – Choose whether or not to fulfill your Sims' destinies by making their wishes come true—or letting their dreams die. Will your Sims be rock stars, world leaders, or expert thieves? It's up to you."[2]
Complete challenges to unlock additional items, new buildings and landmarks
Xbox 360/PS3 only features
Build and share online! – Connect through Xbox Live and PSN to share your creations and download content from other players around the world.
Connect with Facebook and share your achievements with your friends.
Nintendo Wii only features
This game will feature weather which can be controlled with Karma Powers.[2]
New co-op mode where players can join friends. A second player can join the fun as a gnome who can help—or hinder—your Sims. You can also play the new Life Moments Game with up to four players. Bet on life's most important moments to earn points and garner rewards.[2]
Some traits, careers, lifetime wishes, and weather will be exclusive to the Wii version of the game.